The most successful and famous people in the world have endured the most failures in life.
"Success consists of going from failure to failure without loss of enthusiasm." — Winston Churchill
They faced the same struggles before they reached the peak of success. They've failed repeatedly. Never give up. Success takes time and effort.
"Never give up. Today is hard, tomorrow will be worse, but the day after tomorrow will be sunshine." – Jack Ma
Remind yourself that sometimes failure is just the first step towards success.
Here's a list of 20 famous people who failed before they succeeded.
1. Abraham Lincoln:
"I will prepare and some day my chance will come." – Abraham Lincoln
Abraham Lincoln was the 16th President of the United States, serving from March 1861 until his assassination in April 1865.
Born: February 12, 1809, Hodgenville
Assassinated: April 15, 1865, Petersen House
Abraham Lincoln abolished slavery, strengthened the federal government, and modernized the economy of United States of America.
In his personal life, he lost a wife and would eventually lose children as well.
Though, before becoming a president, he encountered several failures.
Some of these are: his mother died; his business failed; he got fired from his job; he tried starting a business and borrowed some money from his friends but at the end of the year, he faced bankruptcy.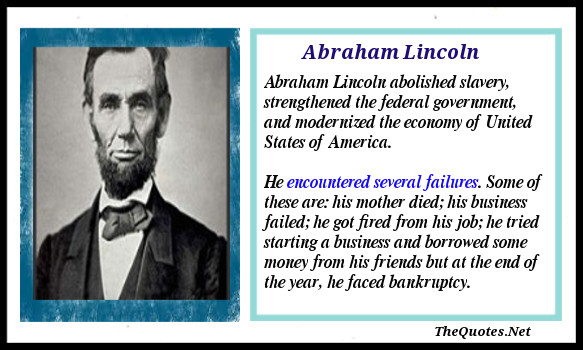 Continue reading "20 Successful People who turned their Failures into Success"