Gabriel Garcia Marquez was a Colombian novelist, short-story writer, screenwriter and journalist, known affectionately as Gabo or Gabito throughout Latin America.
On March 06, 2018, Google showed Doodle in many Countries for the Gabriel García Márquez's 91st Birthday.
Gabriel Garcia Marquez Books:
1. One Hundred Years of Solitude 
One Hundred Years of Solitude is a landmark 1967 novel that tells the multi-generational story of the Buendía family, whose patriarch, José Arcadio Buendía, founds the town of Macondo, in the metaphoric country of Colombia.
The book follows the fictional story of several generations of the Buendia family, whose almost surreal lives evolve in and revolve around Macondo, a village created upon the realities of rural Latin America.
Original title : Cien años de soledad
Genre: Magic realism
Publication date : 1967
Published in English : 1970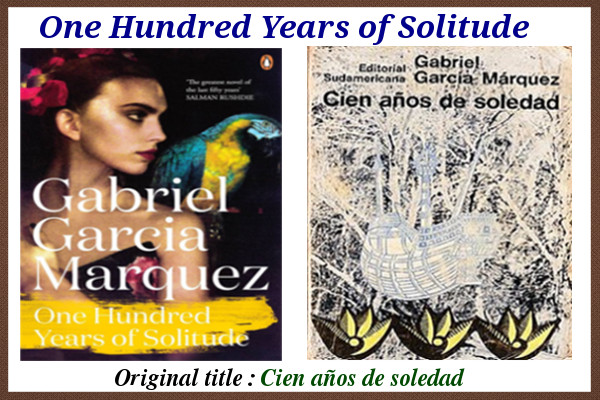 2. The Autumn of the Patriarch
The Autumn of the Patriarch is a novel written in 1975. A "poem on the solitude of power" according to the author, the novel is a flowing tract on the life of an eternal dictator.
The book is divided into six sections, each retelling the same story of the infinite power held by the archetypical Caribbean tyrant.
The product is a universal story of the disastrous effects created by the concentration of power into a single man. The book is written in long paragraphs with extended sentences.
Original title: El otoño del patriarca
Publication date : 1975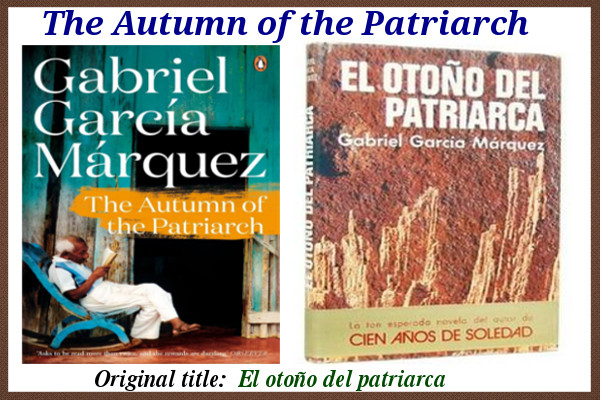 3. The General in His Labyrinth
The initial idea to write a book about Simón Bolívar came to García Márquez through his friend and fellow Colombian writer Álvaro Mutis, to whom the book is dedicated.
It is a fictionalized account of the last seven months of Simón Bolívar, liberator and leader of Gran Colombia. The book traces Bolívar's final journey from Bogotá to the Caribbean coastline of Colombia in his attempt to leave South America for exile in Europe.
The story explores the labyrinth of Bolívar's life through the narrative of his memories, in which "despair, sickness, and death inevitably win out over love, health, and life".
Original title: El general en su laberinto
Genre: Historical novel, Dictator novel
Publisher: 1989 (Editorial La Oveja Negra, in Spanish), 1990 (Alfred A. Knopf, in English)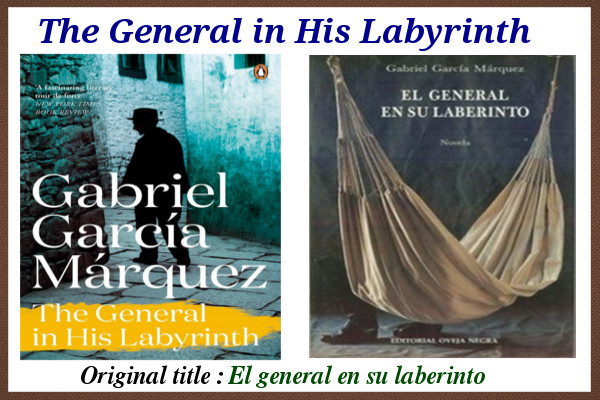 4. News of a Kidnapping
The book recounts the kidnapping, imprisonment, and eventual release of a handful of prominent figures in Colombia in the early 1990s by the Medellín Cartel, a drug cartel founded and operated by Pablo Escobar.
The book begins with an account of the abductions of Maruja Pachón and Beatriz Villamizar de Guerrero the evening of 7 November 1990.
Original title: Noticia de un secuestro
Genre: non-fiction
Publication date : 1996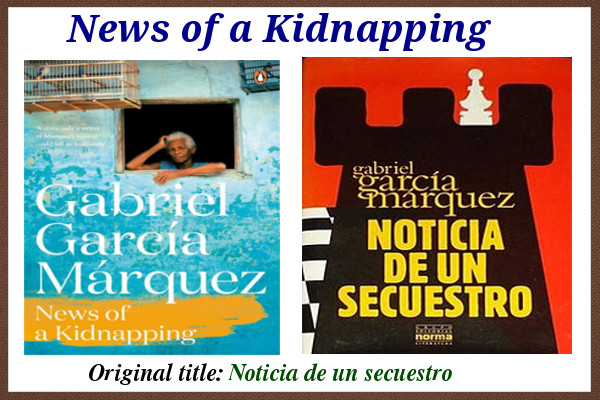 5. Living to Tell the Tale
Living to Tell the Tale is the first volume of the autobiography of Gabriel García Márquez.
Living to Tell the Tale tells the story of García Márquez' life from 1927 through 1950, ending with his proposal to his wife.
It focuses heavily on García Márquez' family, schooling, and early career as a journalist and short story writer, and includes references to numerous real-life events that ended up in his novels in one form or another, including the Banana massacre that appears prominently in One Hundred Years of Solitude and the friend of his whose life and death were the model for Chronicle of a Death Foretold.
Original title : Vivir para contarla
Publication date : 2002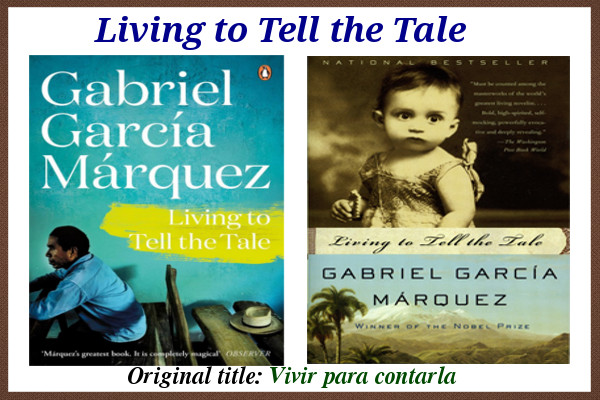 6. Strange Pilgrims
Strange Pilgrims is a collection of twelve loosely related short stories.
Not published until 1992, the stories that make up this collection were originally written during the seventies and eighties.
Each of the stories touches on the theme of dislocation and the strangeness of life in a foreign land, although quite what "foreign" means is one of García Márquez's central questions. García Márquez himself spent some years as a virtual exile from his native Colombia.
Original title: Doce cuentos peregrinos
The twelve stories are:
Bon Voyage, Mr President (Buen Viaje, Señor Presidente)
The Saint (La Santa)
Sleeping Beauty and the Airplane (El Avión de la Bella Durmiente)
I Sell My Dreams (Me Alquilo para Soñar)
"I Only Came to Use the Phone" (Solo Vine a Hablar por Teléfono)
The Ghosts of August (Espantos de Agosto)
María dos Prazeres
Seventeen Poisoned Englishmen (Diecisiete Ingleses Envenenados)
Tramontana
Miss Forbes's Summer of Happiness (El Verano Feliz de la Señora Forbes)
Light is Like Water (La Luz es como el Agua)
The Trail of Your Blood in the Snow (El Rastro de tu Sangre en la Nieve)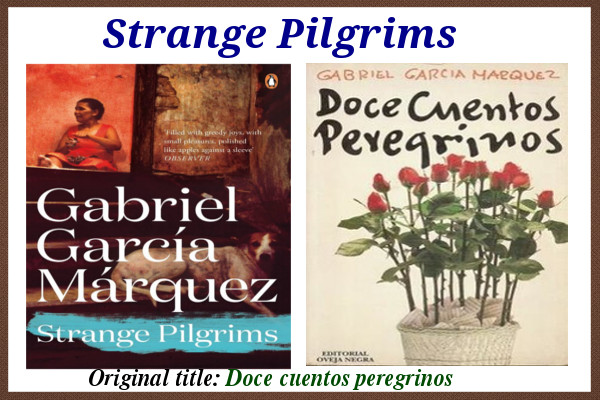 7. The Story of a Shipwrecked Sailor
The full title is The Story of a Shipwrecked Sailor: Who Drifted on a Liferaft for Ten Days Without Food or Water, Was Proclaimed a National Hero, Kissed by Beauty Queens, Made Rich Through Publicity, and Then Spurned by the Government and Forgotten for All Time.
It was originally published as a fourteen consecutive day series of installments in El Espectador newspaper in 1955; it was later published as a book in 1970, and then translated into English by Randolph Hogan in 1986.
The story is written in the first-person from the perspective of the sailor, 20-year-old Luis Alejandro Velasco, and was in fact signed by Velasco as author when it was first published in 1955. Not until 1970 when it was published as a book was García Márquez's name first publicly associated with the story.
In 1996 The Story of a Shipwrecked Sailor inspired Isabel Pantoja's music video "Poor, my hope" directed by José Luis Lozano.
Original title : Relato de un náufrago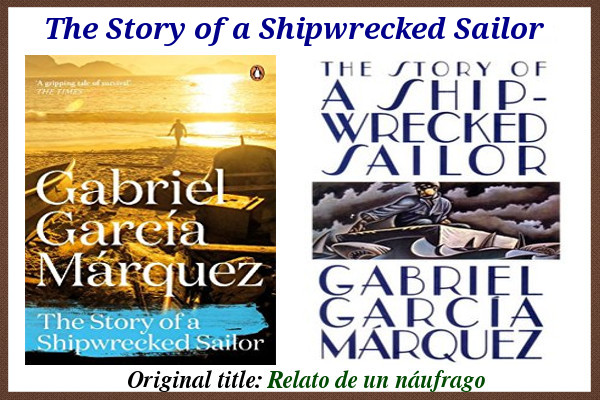 8. In Evil Hour
The story was originally entitled Este pueblo de mierda (This Town of Shit or This Shitty Town). Rewritten, it won a literary prize in Colombia.
Some of the same characters and situations found in La mala hora later re-appear in Cien años de soledad.
In Evil Hour takes place in a nameless Colombian village. Someone has been placing satirical pasquinades about the town, outlining the locals' shameful secrets. Some dismiss these as common gossip.
Original title: La mala hora 
Publication date : 1962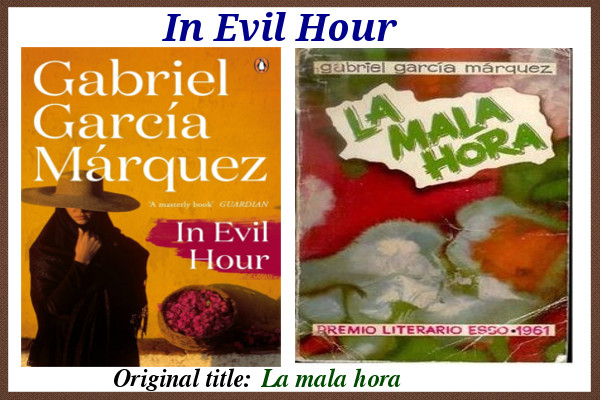 9. No One Writes to the Colonel
No One Writes to the Colonel also gives its name to a short story collection. García Márquez considered it his best book, saying that he had to write One Hundred Years of Solitude so that people would read No One Writes to the Colonel.
The novel, written between 1956 and 1957 while living in Paris in the Hotel des Trois Colleges and first published in 1961, is the story of an impoverished, retired colonel, a veteran of the Thousand Days' War, who still hopes to receive the pension he was promised some fifteen years earlier.
Original title: El coronel no tiene quien le escriba
Publication date : 1961
10. Chronicle of a Death Foretold 
Chronicle of a Death Foretold is a novella. It tells, in the form of a pseudo-journalistic reconstruction, the story of the murder of Santiago Nasar by the two Vicario brothers.
It was translated into English by Gregory Rabassa and by Edith Grossman. The book was adapted for the big screen in the Spanish language film: Chronicle of a Death Foretold (1987), an Italian-French-Colombian co-production, directed by Francesco Rosi, starring Ornella Muti, Rupert Everett and Anthony Delon.
In 1995, Graciela Daniele adapted it into the Tony Award-nominated Broadway musical of the same name, which she also directed and choreographed.
A Romanian short film was made in 2007.
Original title : Crónica de una muerte anunciada 
Publication date : 1961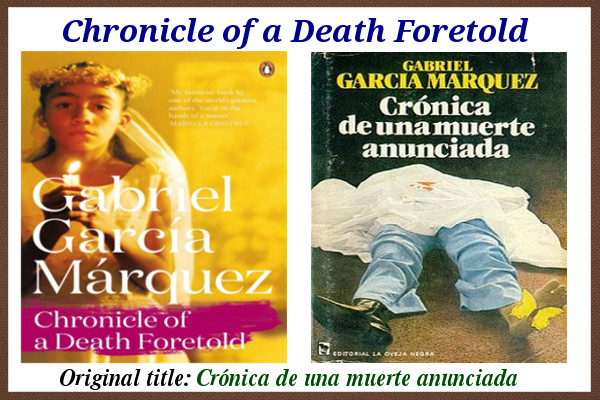 Nobody deserves your tears, but whoever deserves them will not make you cry.
There is always something left to love.
Human beings are not born once and for all on the day their mothers give birth to them, but … life obliges them over and over again to give birth to themselves.
No medicine cures what happiness cannot.
My heart has more rooms in it than a whore house.
A true friend is the one who holds your hand and touches your heart.
Just because someone doesn't love you as you wish,it doesn't mean you're not loved with all his/her being.
Never stop smiling not even when you're sad, someone might fall in love with your smile.
You may only be a person in this world, but for someone you're the world.
Don't spend time with someone,who doesn't care spending it with you.
Maybe God wants you to meet many wrong people, before you meet the right one,so when it happens you'll be thankful
There will always be people who'll hurt you,so you need to continue trusting, just be careful.
The only regret I will have in dying is if it is not for love.