A leader is someone who has a certain amount of expertise in whatever industry or niche they are in, and they are willing – and do – share their insights with those around them through writing, speaking and taking action.
A leader is someone who establishes a clear vision, and then guides their team towards that vision by empowering them and coaching them to greatness.
As a leader, you have the opportunity to directly and positively influence the success of not just your organization, but also the people who work for you.
"A leader is one who knows the way, goes the way, and shows the way." – John C. Maxwell
Here are some quick tips I've learned along the way about how to become a better leader: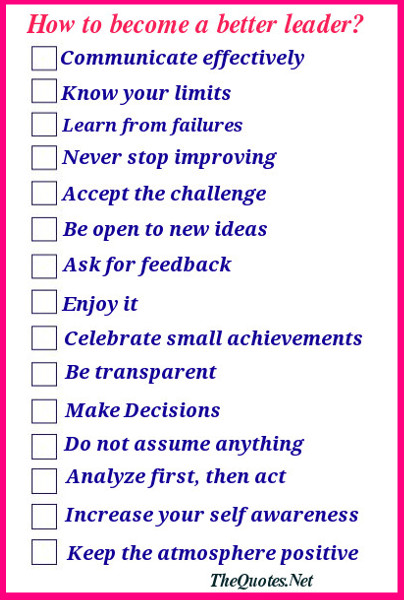 1. Communicate effectively:
Effective communication is imperative, both in the office and in life. Great leaders make sure they are heard and understood, but they also know the importance of listening.
2. Know your limits:
Even the kindest, most caring leader has limits. Set your boundaries and stick to them.
3. Learn from failures:
Too many leaders don't stop to reward success or recognize employees' outstanding work but are quick to point out what people do wrong. While it's good management to learn from what went right or wrong on a project, it's also important to celebrate achievements.
4. Never stop improving:
Great leaders — indeed, great people — are constantly learning and always trying to improve themselves. There's always something that you can work on or a new skill to master. Be sure to keep your mind open to new ideas and possibilities.
5. Accept the challenge:
Great leaders embrace the challenge of leadership. To work with people, you must constantly put into practice superior interpersonal and social skills–your job is to motivate, support and remove obstacles so employees can do their jobs.
6. Be open to new ideas:
Great leaders listen to their employees' ideas. Be open to their ideas and implement them when it makes sense.
7. Ask for feedback:
Your team members aren't the only ones who can benefit from honest feedback.
8. Enjoy it:
Team leadership is often challenging but frequently rewarding. Heading up a team that's working well and delivering results is a great feeling, so go do it!
9. Celebrate small achievements:
No matter how small the triumph you and your team achieved; it will be a great source of motivation.
10. Be transparent:
Share information. Your team must know the circumstances which have an effect on the project they are part of.
11. Make Decisions:
Successful leaders are expert decision makers. They focus on "making things happen" at all times – decision making activities that sustain progress.
12. Do not assume anything:
Just because someone made an error or mistake once, don't assume they will always do it again.
13. Analyze first, then act:
It takes time to collect information, and there's a sense in leadership that you need to move quickly.
14. Increase your self awareness:
If you are going to lead a team effectively, you need to have a high level of self awareness. Being self aware is not about identifying all of your faults but about understanding your motivators, your impact, what you do well and where you struggle.
15. Keep the atmosphere positive:
A group of people doesn't necessarily make a team. Being committed and loyal to one another is what makes a team. Inspire each other with enthusiasm and an infectious, "can-do" attitude.
Quotes about Leadership:
Leadership is not about titles, positions or flowcharts. It is about one life influencing another. – John C. Maxwell
A genuine leader is not a searcher for consensus but a molder of consensus. – Martin Luther King, Jr.
I suppose leadership at one time meant muscles; but today it means getting along with people. – Mahatma Gandhi
A leader is one who knows the way, goes the way, and shows the way. – John C. Maxwell
Education is the mother of leadership. – Wendell Willkie
A leader is a dealer in hope. – Napoleon Bonaparte
Read more Leadership Quotes