Mother's Day is the third most popular holiday in the world, behind only Christmas and Easter. Mother's Day is a celebration honoring the mother of the family, as well as motherhood, maternal bonds, and the influence of mothers in society.
It is celebrated every year in USA and in some other countries on 2nd Sunday of May. In the United States, celebration of Mother's Day began in the early 20th century.
"When Mother is Happy Family is Happy. When Family is Happy nation is Happy" – Abdul Kalam
M-O-T-H-E-R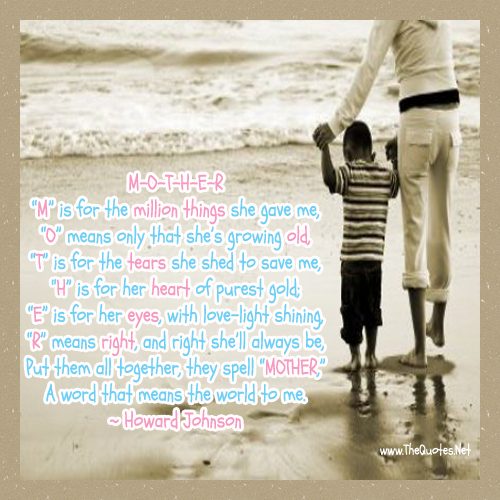 "M" is for the million things she gave me,
"O" means only that she's growing old,
"T" is for the tears she shed to save me,
"H" is for her heart of purest gold;
"E" is for her eyes, with love-light shining,
"R" means right, and right she'll always be,
Put them all together, they spell "MOTHER,"
A word that means the world to me.
– Howard Johnson
Mother's Day Facts:
The modern holiday of Mother's Day was first celebrated in 1908, when Anna Jarvis held a memorial for her mother at St Andrew's Methodist Church in Grafton, West Virginia. St Andrew's Methodist Church now holds the International Mother's Day Shrine.
In 1912 Anna Jarvis trademarked the phrases "Second Sunday in May" and "Mother's Day", and created the Mother's Day International Association.
Ann Jarvis had started a committee in 1868 to establish 'Mother's Friendship Day'. Her motivation had been to reunite families after the Civil War. She died in 1905, before Mother's Day became a holiday.
In Hungary, Mother's Day is celebrated on the first Sunday of May. It was first celebrated in 1925 by the Hungarian Red Cross Youth.
In the United States, Mother's Day remains one of the biggest days for sales of flowers, greeting cards, and the like; Mother's Day is also the biggest holiday for long-distance telephone calls.
Pink and red carnations are given to mother's that are still alive, while white ones are for those that have passed away.
Ancient myths allude to the fact that Greeks and Romans celebrated Mother's Day by honoring Goddess Cybele, personifying Great Mother Earth and Goddess of fertility, and Rhea, mother of the Gods.
The writer of The Battle Hymn of the Republic, Julia Howe, tried to start a Mother's Day in 1872. It was an antiwar observance first held in 1872. It continued in Boston but after 10 years it had lost its popularity.
Mother's Day Gift Ideas: 
You can buy a bouquet for the mother.
You can treat mother as a friend, buy a couple pendant, or a pair of small ornaments.
You can secretly decorate her room.
You can also do for the mother to do a table of meals, to be carefully prepared.
You can buy her a maintenance product, cosmetics.
You can take her out to travel.
You can write about an incident, a fun vacation and attach some picture with it too. Post this letter to her.
You can Prepare a song for her and sing in front of her or you can also send a voice message on Whatsapp.
You can buy a simple cake from any cake shop nearby and cut together.
You can write down all the things that our Mother loved to have or loved to do earlier but sacrifices for the sake of your upbringing.
Buy Mother's Day Gifts from Amazon.
Poems about Mother: 
To My Mother – Poem by Robert Louis Stevenson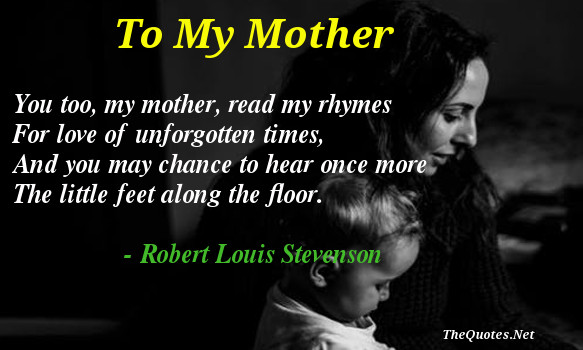 You too, my mother, read my rhymes
For love of unforgotten times,
And you may chance to hear once more
The little feet along the floor.
My Mother – Poem by Francis Ledwidge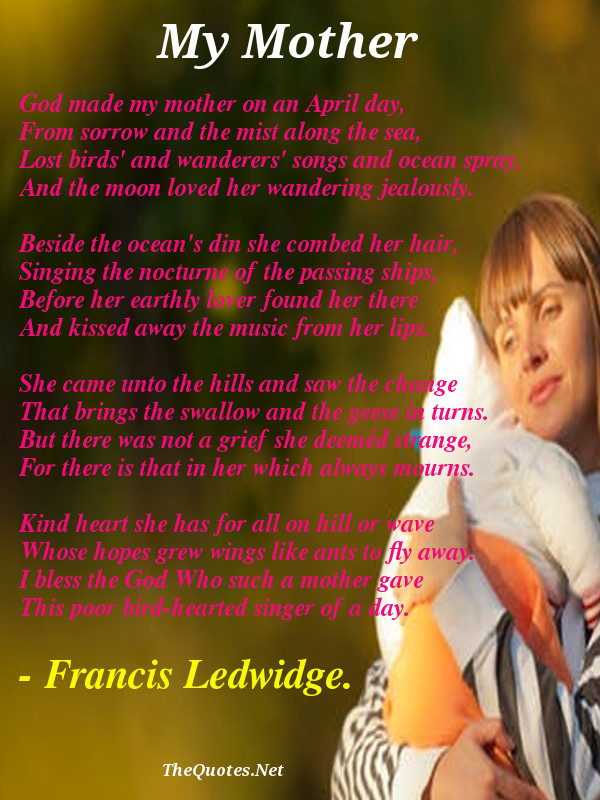 God made my mother on an April day,
From sorrow and the mist along the sea,
Lost birds' and wanderers' songs and ocean spray,
And the moon loved her wandering jealously.
Beside the ocean's din she combed her hair,
Singing the nocturne of the passing ships,
Before her earthly lover found her there
And kissed away the music from her lips.
She came unto the hills and saw the change
That brings the swallow and the geese in turns.
But there was not a grief she deeméd strange,
For there is that in her which always mourns.
Kind heart she has for all on hill or wave
Whose hopes grew wings like ants to fly away.
I bless the God Who such a mother gave
This poor bird-hearted singer of a day.
Mother O' Mine – Poem by Rudyard Kipling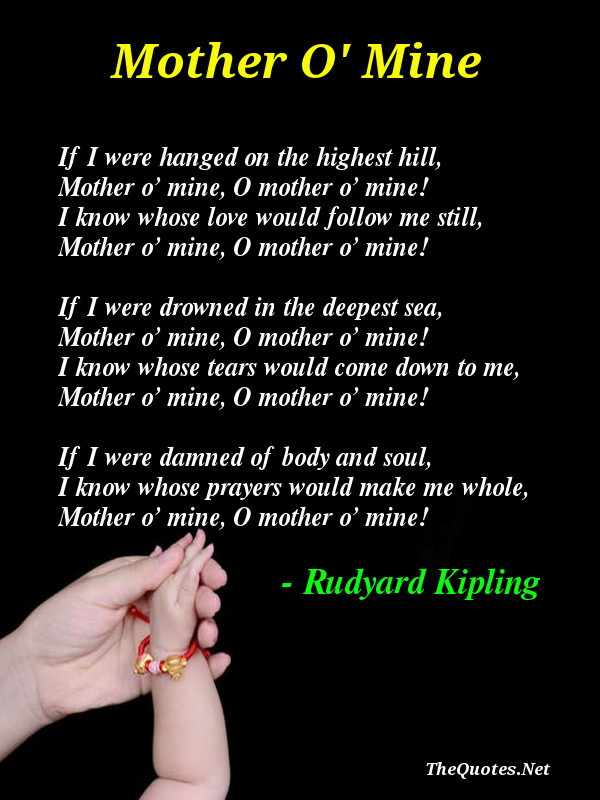 If I were hanged on the highest hill,
Mother o' mine, O mother o' mine!
I know whose love would follow me still,
Mother o' mine, O mother o' mine!
If I were drowned in the deepest sea,
Mother o' mine, O mother o' mine!
I know whose tears would come down to me,
Mother o' mine, O mother o' mine!
If I were damned of body and soul,
I know whose prayers would make me whole,
Mother o' mine, O mother o' mine!
I remember my mother's prayers and they have always followed me. They have clung to me all my life. – Abraham Lincoln
Mothers are fonder than fathers of their children because they are more certain they are their own. – Aristotle
Most mothers are instinctive philosophers. – Harriet Beecher Stowe
Motherhood is priced. Of God, at price no man may dare. To lessen or misunderstand. – Helen Hunt Jackson
Mother – that was the bank where we deposited all our hurts and worries. –T.DeWitt Talmage
A mother is a mother still, The holiest thing alive. – Samuel Taylor Coleridge
This heart, my own dear mother, bends,With love's true instinct, back to thee!
– Thomas Moore
You will simply call her, 'Mom.' – William Ross Wallace
Mother's Day Facebook Covers:




Related: