Friendship is a relationship of mutual affection between people. Friendship in adulthood provides companionship, affection, as well as emotional support, and contributes positively to mental well-being and improved physical health.
Friendship is a relationship between two or more people who like each other and enjoy each other's company.
A World Happiness Database study found that people with close friendships are happier.
"The language of friendship is not words but meanings." – Henry David Thoreau
Top 10 Friendship Poems:
1. Friends Are Light
Friends are the light in the darkness of life,
Friends help you the most, when you strive,
Friends are there when no one else is,
They ease you from life's every frizz,
Dear friend thanks is a small word for you,
Coz people like you are very few!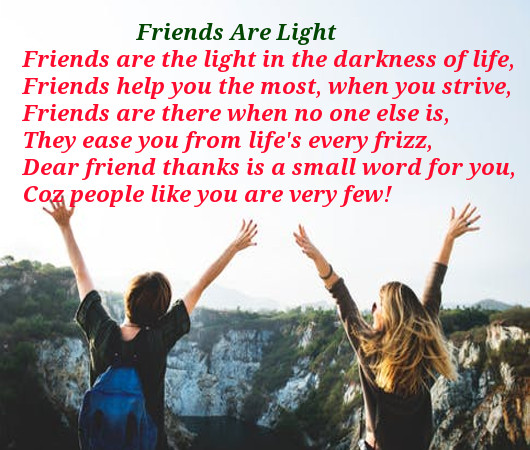 2. Friends Are Like Flowers
In the garden of life,
Friends are rose flower,
When they are with you,
You have all the power,
Friends give you an insight,
They inspire you to truly fight,
Best friends are forever!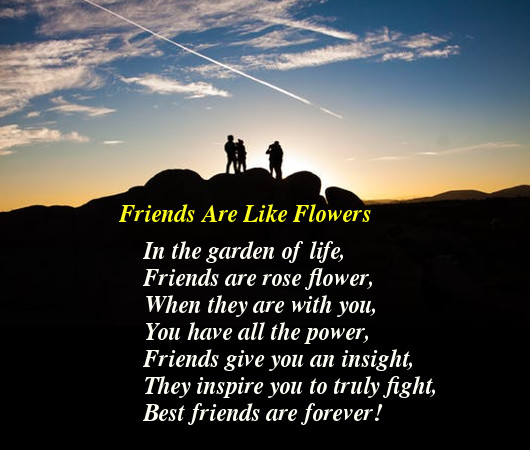 3. Thank You Friend
Thank you friend for listening to me,
Your friendship is life's biggest key.
You are a true friend and I want you to know,
That I'll stick with you whenever you are in need.
Seasons come and go
But true friendship like yours deserves a bow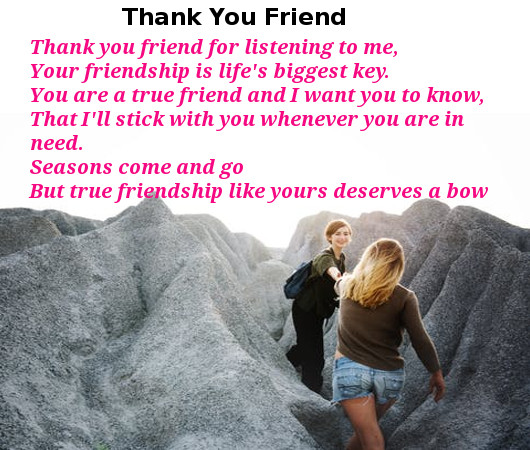 4. To My Best Friend
A six letter word that gives a new meaning,
Has got me over you leaning.
A friend like you is a pillar of support,
For you I will hold a fort.
We are destined to be best friends forever,
Your relationship is what I will never sever.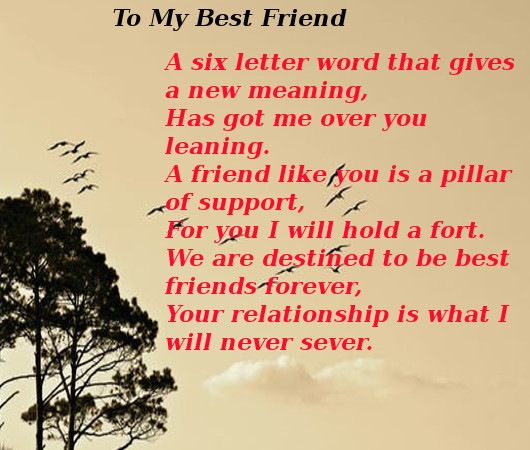 5. You Understand Me
I don't know how you heard,
When I didn't even said a word,
How do you understand me more than me?
I actually can't even see,
I am so blessed that I have you in my life,
Without you I don't know how I will survive!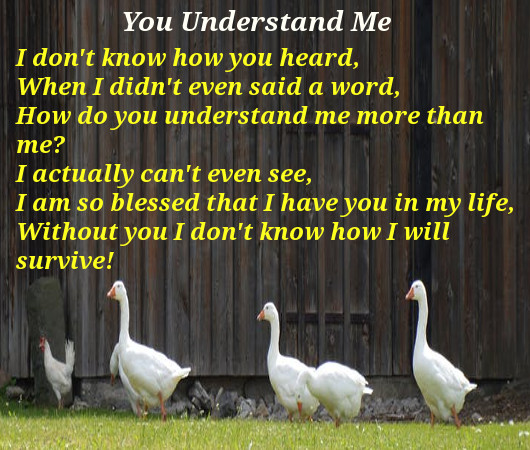 6. Those moments with you
Ah! Those wonderful moments,
The blessings in disguise,
Not a day it has been,
Where I did suffice,
Without you my friend,
You and I make a perfect blend,
Of pure friendship,
Cheers!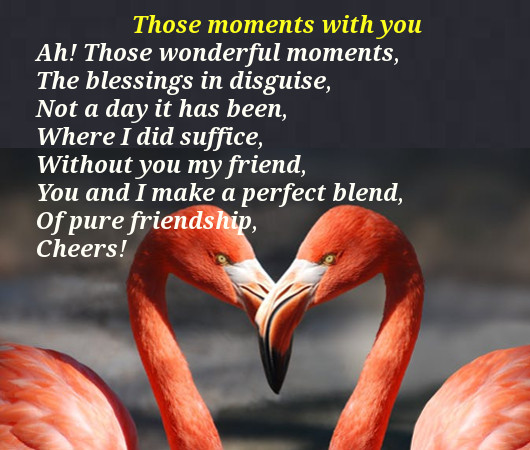 7. No rules to friendship
There are no rules to friendship,
No rules to love and care,
It is pure from the heart,
From the very start,
You are my true friend is all I can say
And, I can only pray,
That our friendship stays with time!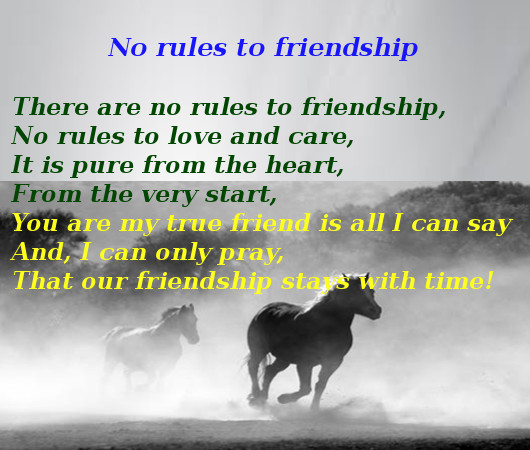 8. You are the Best
True friends are hard to come by,
But when you spot one, make sure not to let him fly.
They don't abandon in times of need,
A friend in need is a friend indeed.
Friend, you are the best I could ask for,
On a scale of 100, you earn a perfect score.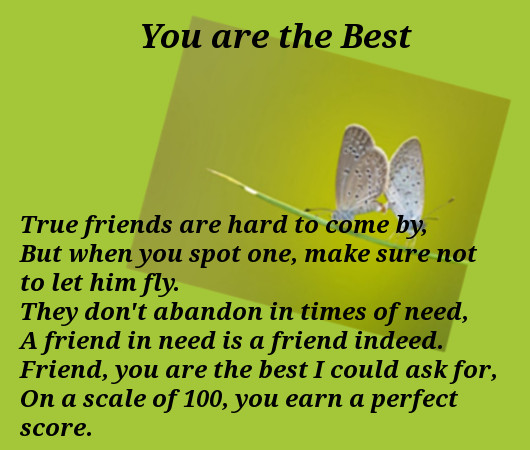 9. Memories With You
So many memories I had with you,
So many stories told,
The good times that we had,
The bad memories so sad,
My dear friend you have always been there for me,
Kudos to our bond to thee!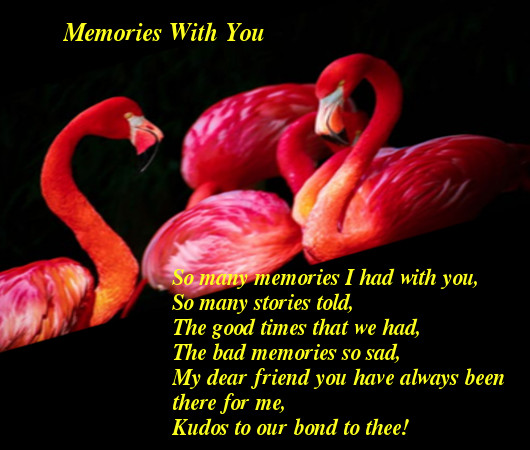 10. Stand With You
Best friends stand with you in the testing time,
They are like the sweet rhyme,
They are always there when you want them to,
Best friends are really rare and few,
I am grateful that I have you with me,
With you around I feel so free,
Thanks my friend, glad that you understand!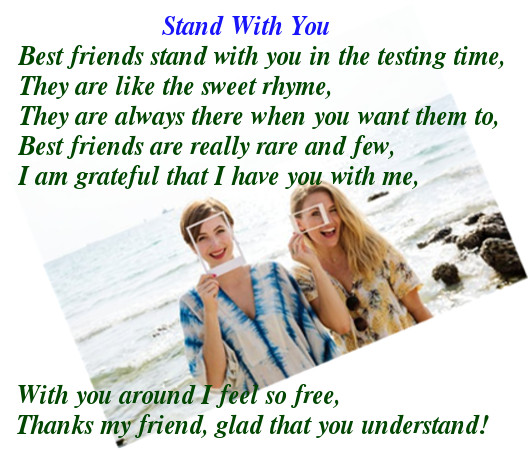 Friendship Quotes
Friendship is always a sweet responsibility, never an opportunity. – Khalil Gibran
My best friend is the one who brings out the best in me. –  Henry Ford
The language of friendship is not words but meanings. –  Henry David Thoreau
Don't walk behind me; I may not lead. Don't walk in front of me; I may not follow. Just walk beside me and be my friend. – Albert Camus
A friend is someone who knows all about you and still loves you. – Elbert Hubbard
Love is the only force capable of transforming an enemy into friend. – Martin Luther King, Jr.
A friend is one who knows you and loves you just the same. – Elbert Hubbard
Walking with a friend in the dark is better than walking alone in the light. – Helen Keller
Friendship is a single soul dwelling in two bodies. – Aristotle
Friendship… is not something you learn in school. But if you haven't learned the meaning of friendship, you really haven't learned anything. – Muhammad Ali
Am I not destroying my enemies when I make friends of them. – Abraham Lincoln
Read more friendship quotes at http://www.thequotes.net/2014/06/friendship-quotes/