The happiness of the Danes can easily be explained by 10 cultural rules. Jante Law has ten simple rules and they are all about the happy acceptance of being average. And, it seems that the idea of jante has a big part to play in the smiling Danish faces.
The Law of Jante is the description of a pattern of group behaviour towards individuals within Nordic countries that negatively portrays and criticises individual success and achievement as unworthy and inappropriate.
The Jante Law as a concept was created by the Dano-Norwegian author Aksel Sandemose, who, in his novel A Fugitive Crosses His Tracks (En flyktning krysser sitt spor, 1933, English translation published in the USA in 1936), identified the Law of Jante as ten rules.
There are ten rules in the law as defined by Sandemose, all expressive of variations on a single theme and usually referred to as a homogeneous unit: You are not to think you're anyone special or that you're better than us.
The 10 rules of Jante Law:
Rule #1: You're not to think you are anything special.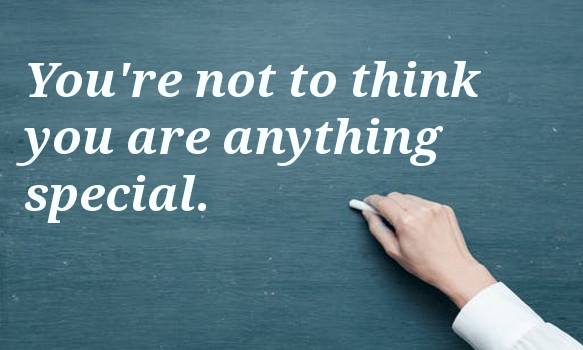 Rule #2: You're not to think you are as good as we are.