The most successful and famous people in the world have endured the most failures in life.
"Success consists of going from failure to failure without loss of enthusiasm." — Winston Churchill
They faced the same struggles before they reached the peak of success. They've failed repeatedly. Never give up. Success takes time and effort.
"Never give up. Today is hard, tomorrow will be worse, but the day after tomorrow will be sunshine." – Jack Ma
Remind yourself that sometimes failure is just the first step towards success.
Here's a list of 20 famous people who failed before they succeeded.
1. Abraham Lincoln:
"I will prepare and some day my chance will come." – Abraham Lincoln
Abraham Lincoln was the 16th President of the United States, serving from March 1861 until his assassination in April 1865.
Born: February 12, 1809, Hodgenville
Assassinated: April 15, 1865, Petersen House
Abraham Lincoln abolished slavery, strengthened the federal government, and modernized the economy of United States of America.
In his personal life, he lost a wife and would eventually lose children as well.
Though, before becoming a president, he encountered several failures.
Some of these are: his mother died; his business failed; he got fired from his job; he tried starting a business and borrowed some money from his friends but at the end of the year, he faced bankruptcy.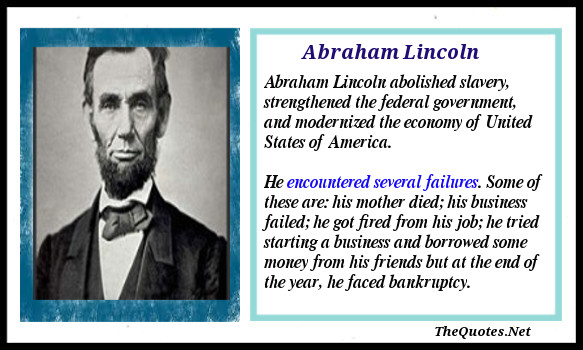 2. Thomas Edison:
"I am not discouraged, because every wrong attempt discarded is another step forward." – Thomas Alva Edison
Thomas Alva Edison was an American inventor and businessman. He developed many devices that greatly influenced life around the world, including the phonograph, the motion picture camera, and a long-lasting, practical electric light bulb.
Born: February 11, 1847, Milan
Died: October 18, 1931, West Orange
In his early years, teachers told Edison he was "too stupid to learn anything." Work was no better, as he was fired from his first two jobs for not being productive enough.
He even stopped his formal education at the age of 12. Not only that, he also failed more or less a thousand times with his inventions.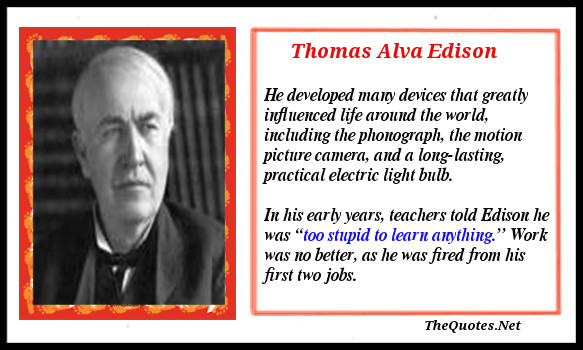 3. Charles Darwin:
"To kill an error is as good a service as, and sometimes even better than, the establishing of a new truth or fact." – Charles Robert Darwin
Charles Robert Darwin was an English naturalist and geologist.
Darwin is best known for his contributions to evolutionary theory.
Born: 12 February 1809, The Mount, Shrewsbury, Shropshire, England
Died: 19 April 1882 (aged 73) Down House, Downe, Kent, England
In his early years, Darwin gave up on having a medical career and was often chastised by his father for being lazy and too dreamy. Charles Darwin was considered an average student.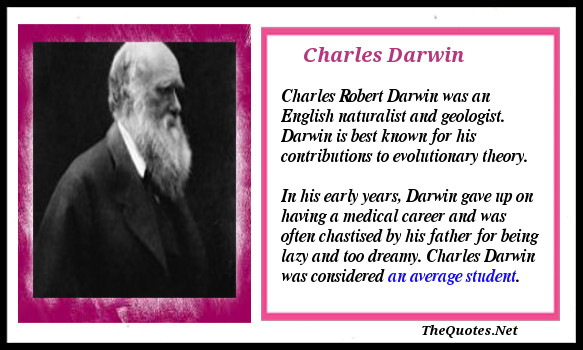 4. Charlie Chaplin:
"Failure is unimportant. It takes courage to make a fool of yourself." – Charlie Chaplin
Charlie Chaplin, was an Academy Award-winning English comedic actor,film director and composer best known for his work during the silent film era.
Born: April 16, 1889, Walworth, London
Died: December 25, 1977, Vevey
He achieved an Oscar for the movie "The Circus." He directed films like "The Cure." He directed and starred in "The Rink."
Charlie's family was always living in the midst of poverty and hardship.
By age 13 Chaplin had fully abandoned education. He supported himself with a range of jobs, but said he "never lost sight of my ultimate aim to become an actor.
Charlie's father was an alcoholic. His family was poor and had to work hard to earn money.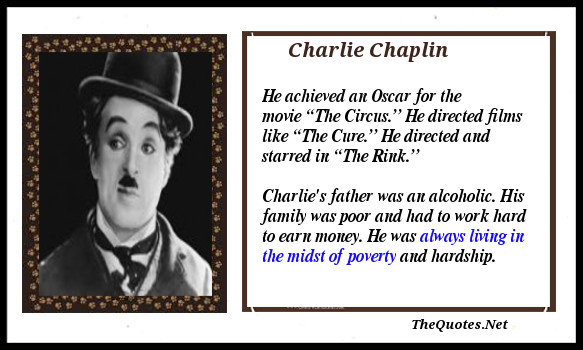 5. Albert Einstein:
"You never fail until you stop trying." – Albert Einstein
Albert Einstein was a German-born theoretical physicist who developed the general theory of relativity, one of the two pillars of modern physics.
Awards: Nobel Prize in Physics, Copley Medal, Max Planck Medal
Born: March 14, 1879, Ulm
Died: April 18, 1955, Princeton
Einstein did not speak until he was four and did not read until he was seven, causing his teachers and parents to think he was mentally handicapped, slow and anti-social.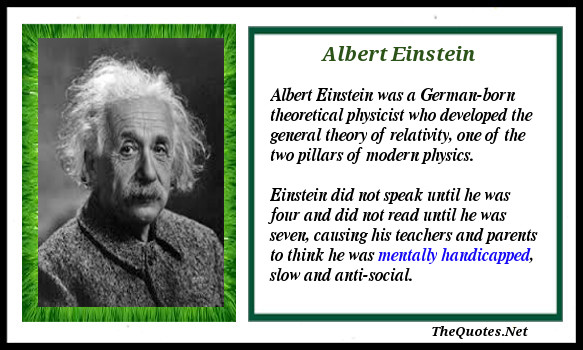 6. Isaac Newton:
"Errors are not in the art but in the artificers." – Isaac Newton
Sir Isaac Newton was an English physicist, mathematician, astronomer,natural philosopher, alchemist and theologian, who has been "considered by many to be the greatest and most influential scientist who ever lived.
Born: January 4, 1643, Woolsthorpe-by-Colsterworth
Died: March 31, 1727, Kensington
Isaac Newton never did good at school and when put in charge of running the family farm, he failed miserably, in fact that an uncle took charge and sent him off to ambridge where he finally blossomed into the scholar we know today.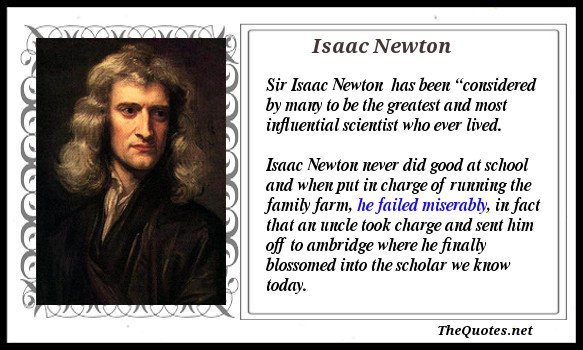 7. Winston Churchill:
"Success is stumbling from failure to failure with no loss of enthusiasm." – Winston Churchill
Winston Churchill was a British Conservative politician and statesman known for his leadership of the United Kingdom during the Second World War.
He was a British statesman, army officer, and writer, who served as Prime Minister of the United Kingdom from 1940 to 1945 and again from 1951 to 1955.
Born: November 30, 1874, Blenheim Palace
Died: January 24, 1965, Hyde Park Gate
Churchill's first major political posting was as Lord of the Admiralty during World War I, a post he was dismissed from after the disaster of the battle of Gallipolli was laid at his doorstep.
Winston Churchill was estranged from his political party over ideological disagreements during the "wilderness years" of 1929 to 1939.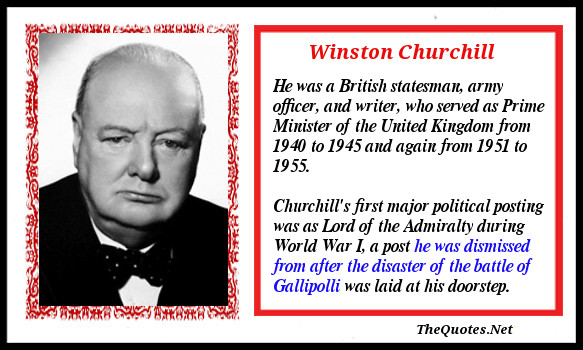 8. Stephen Hawking:
"However difficult life may seem, there is always something you can do and succeed at." – Stephen Hawking
Stephen Hawking is an English theoretical physicist and cosmologist.
Professor Hawking has over a dozen honorary degrees and was awarded the CBE in 1982. He is a fellow of the Royal Society and a Member of the US National Academy of Science. Stephen Hawking is regarded as one of the most brilliant theoretical physicists since Einstein.
Born: 8 January 1942, Oxford, United Kingdom
Died: 14 March 2018, Cambridge, United Kingdom
In 1963, Hawking contracted motor neurone disease and was given two years to live. Yet he went on to Cambridge to become a brilliant researcher and Professorial Fellow at Gonville and Caius College.
Even after the loss of his speech, he was still able to communicate through a speech-generating device, initially through use of a hand-held switch, and eventually by using a single cheek muscle.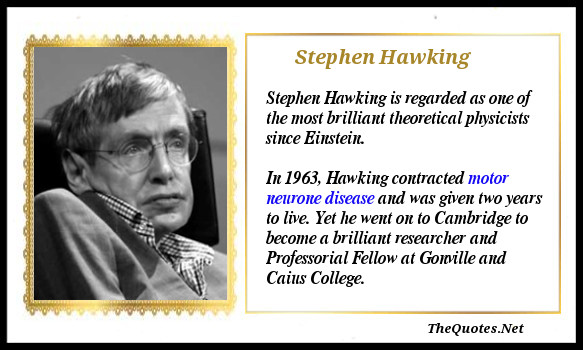 9. Nelson Mandela:
"Do not judge me by my successes, judge me by how many times I fell down and got back up again." – Nelson Mandela
Nelson Mandela is one such great Leader in 20th Century. It is very hard to see any other leader like him. Nelson Mandela was the first black President of South Africa.
Born: 18 July 1918, Mvezo, South Africa
Died: 5 December 2013, Houghton Estate, Johannesburg, South Africa
Nelson Mandela became famous for his long fight against bad government and racial prejudice. He became a hero to people all over the world. As South Africa's President, he was respected for his courage and wisdom in bringing people together to live in peace.
When Mandela was 9 years old, his father died of lung disease.
He faced a long struggle of 27 long years before being elected as the President of South Africa. During his time span in the jail, he kept a scrap of paper, which had the famous lines by William Ernest Henley, named "Invictus."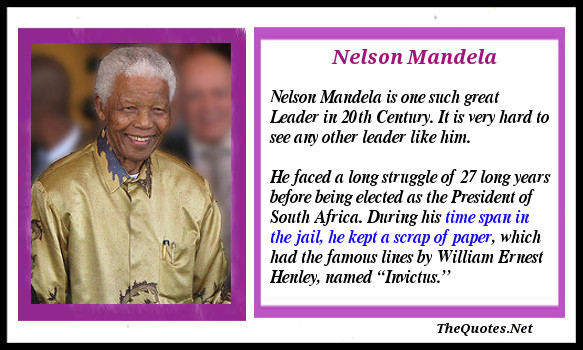 10. Walt Disney:
"The difference in winning and losing is most often…not quitting." – Walt Disney
Walter Elias "Walt" Disney was an American film producer, director, screenwriter, voice actor, animator, entrepreneur, entertainer, international icon,and philanthropist, well known for his influence in the field of entertainment during the 20th century.
Born: December 5, 1901, Hermosa
Died: December 15, 1966, Burbank
He was accused of lack of creativity in the beginning of his career.
He was fired by a newspaper editor because, "he lacked imagination and had no good ideas."
Today, the Walt Disney Company rakes in billions of dollars annually from movies, theme parks, and merchandise around the world.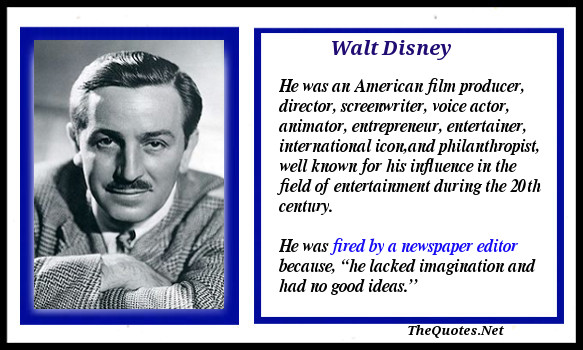 11. A.P.J Abdul Kalam:
"Don't take rest after your first victory because if you fail in second, more lips are waiting to say that your first victory was just luck." – Dr APJ Abdul Kalam
Avul Pakir Jainulabdeen Abdul Kalam usually referred to as Dr. A. P. J.Abdul Kalam, is an Indian scientist and administrator who served as the 11th President of India.
Born: 15 October 1931, Rameswaram
Died: 27 July 2015, Shillong
A career scientist turned statesman, Kalam was studied physics and aerospace engineering.
He thus came to be known as the Missile Man of India for his work on the development of ballistic missile and launch vehicle technology.
He also played a pivotal organisational, technical, and political role in India's Pokhran-II nuclear tests in 1998, the first since the original nuclear test by India in 1974.
He was a recipient of several prestigious awards, including the Bharat Ratna, India's highest civilian honour.
During World War 2, he collected and sold Tamarind seeds. Collected newspaper bundles thrown from the moving train and earned an Anna per day.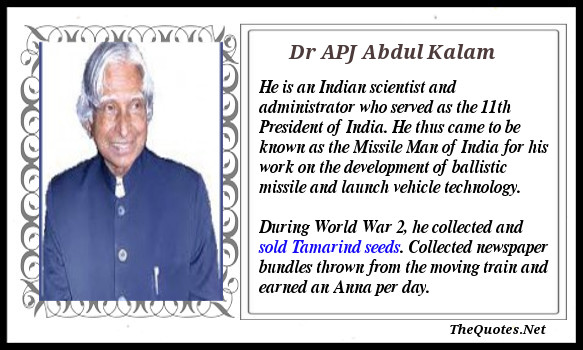 12. J.K. Rowling:
"It is impossible to live without failing at something, unless you live so cautiously that you might as well not have lived at all, in which case you have failed by default." – J.K. Rowling
J. K. Rowling, is a British novelist, best known as the author of the Harry Potter fantasy series.
Born: 31 July 1965 (age 52), Yate, United Kingdom
The Potter books have gained worldwide attention, won multiple awards, and sold more than 400 million copies.
J. K. Rowling is someone whose life has been full of struggle.Rowling was working as a researcher and bilingual secretary for Amnesty International when she conceived the idea for the Harry Potter series while on a delayed train from Manchester to London in 1990.
The seven-year period that followed saw the death of her mother, birth of her first child, divorce from her first husband and relative poverty until the first novel in the series, Harry Potter and the Philosopher's Stone, was published in 1997.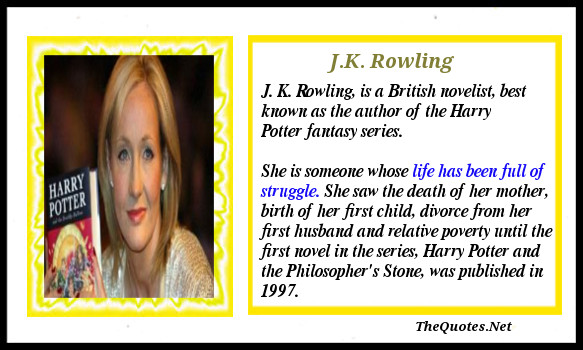 13. Henry Ford:
"Failure is simply opportunity to begin again, this time more intelligently." – Henry Ford
Henry Ford was an American industrialist, the founder of the Ford Motor Company, and sponsor of the development of the assembly line technique of mass production.
As owner of the Ford Motor Company, he became one of the richest and best-known people in the world.
Born: 30 July 1863, Greenfield Township, Michigan
Died: 7 April 1947, Fair Lane, Dearborn, Michigan, United States
Before his success, however, Ford encountered failure during initial production of his first automobile. His investors got cold feet over Ford's meticulousness, and he was unable to find solid financial backing for the automobile in his first two ventures.
His early businesses failed and left him broke five time before he founded the successful Ford Motor Company.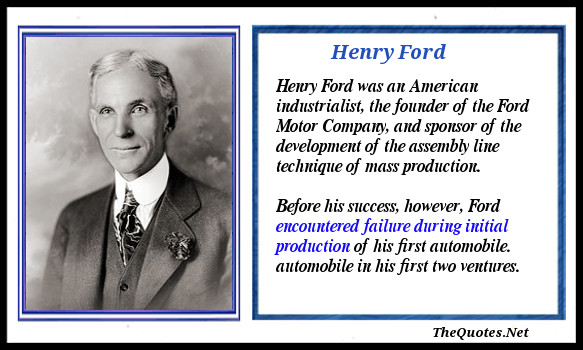 14. Jack Ma:
"If you don't give up, you still have a chance. Giving up is the greatest failure." – Jack Ma
Jack Ma, is a Chinese business magnate, philanthropist, internet and technology entrepreneur.
Born: 10 September 1964 (age 53), Hangzhou, China
He is none other than Jack Ma, founder and executive chairman of Alibaba Group, which is a well-known company. His net worth as of 2017 is estimated at around 34 billion USD. He is also the richest man in China.
He Failed Primary school test 2 times, Failed Middle school 3 times, Failed College Entrance exam 2 times, Applied to Harvard 10 times, and got rejected every time.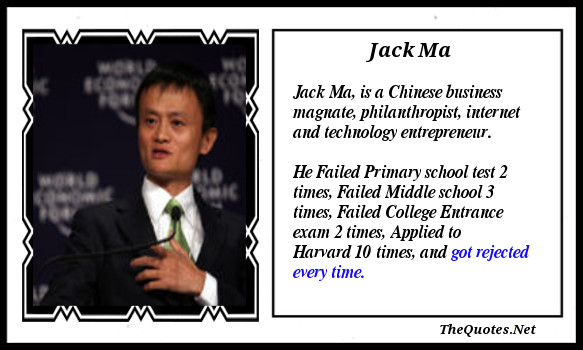 15. Oprah Winfrey:
"Surround yourself with only people who are going to lift you higher."-  Oprah Winfrey
Oprah Gail Winfrey is an American media proprietor, talk show host, actress, producer, and philanthropist.
Born: January 29, 1954
She had plenty of overcome as a young girl. She was born to a poor single mother, lived in poverty, etc.
Winfrey was born into poverty in rural Mississippi to a teenage single mother and later raised in an inner-city Milwaukee neighborhood. She has stated that she was molested during her childhood and early teens and became pregnant at 14; her son died in infancy.
Landing her first job in radio and television broadcasting. She got her first position as an evening news anchor for Baltimore WJZ-TV, but got fired shortly.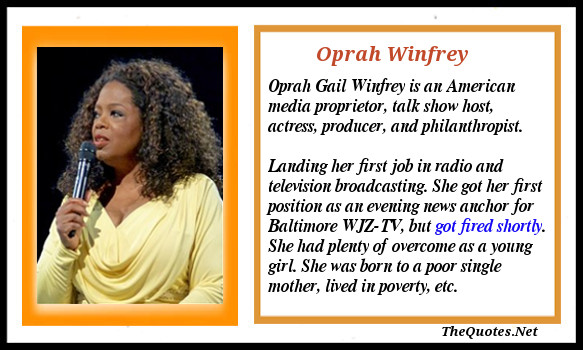 16. Bill Gates:
"It's fine to celebrate success but it is more important to heed the lessons of failure." – Bill Gates
William Henry "Bill" Gates III is an American business magnate and philanthropist.
Born: October 28, 1955, Seattle
He is the founder and chairman of Microsoft, has literally changed the work culture of the world in the 21st century, by simplifying the way computer is being used. He happens to be the world's richest man for the last one decade.
Bill Gates was a Harvard University dropout and his first business, TrafOData, was a failure.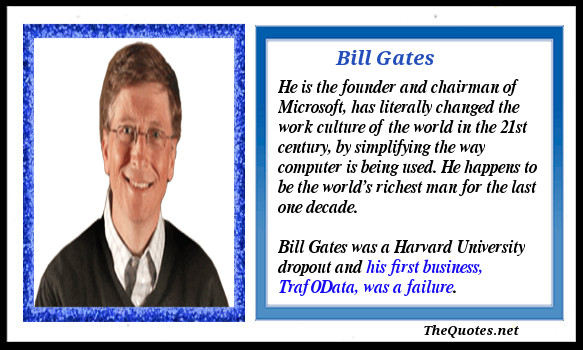 17. Marilyn Monroe:
"Imperfection is beauty, madness is genius and it's better to be absolutely ridiculous than absolutely boring." – Marilyn Monroe
She was recognized by the public as the 20th century's most famous movie star, sex symbol and pop icon.
Notable works: Niagara, Gentlemen Prefer Blondes, River of No Return, The Seven Year Itch, Some Like It Hot, The Misfits
Born : Norma Jeane Mortenson , June 1, 1926 ,Los Angeles, California, United States
Died : August 5, 1962 (aged 36),Brentwood, Los Angeles, California, United States
Marilyn Monroe was dropped by 20th CenturyFox after one year because her producer told that she wasn't pretty or talented enough to be an actress.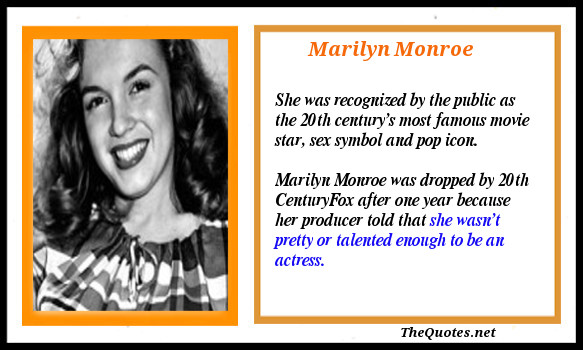 18. Michael Jordan:
"I can accept failure, everyone fails at something. But I can't accept not trying."- Michael Jordan
Michael Jeffrey Jordan, also known by his initials, MJ,  is an American former professional basketball player, entrepreneur, and majority owner and chairman of the Charlotte Bobcats.
Born: 17 February 1963 (age 55), Brooklyn, New York City, New York, United States
His biography on the National Basketball Association (NBA) website states, "By acclamation, Michael Jordan is the greatest basketball player of all time."
Became the greatest basketball player in history.
Michael Jordan was cut from his high school basketball team for a "lack of skill."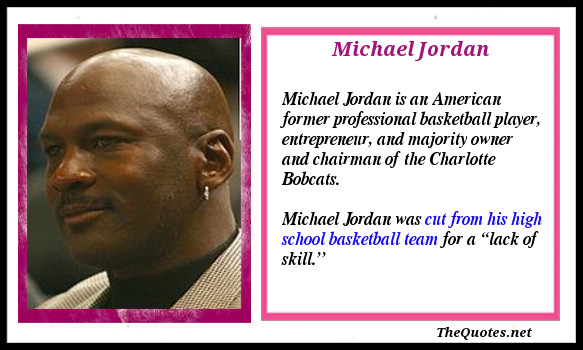 19. Stephen King:
"Life is like a wheel. Sooner or later, it always come around to where you started again." – Stephen King
Stephen Edwin King is an American author of contemporary horror, suspense, science fiction, and fantasy.
King has received Bram Stoker Awards, World Fantasy Awards, and British Fantasy Society Awards.
Born: 21 September 1947 (age 70), Maine Medical Center, Portland, Maine, United States
He's the king of horror and his books have sold more than 350 million copies worldwide.
His first book, Carrie was rejected 30 times. He proceeded to throw it in the trash.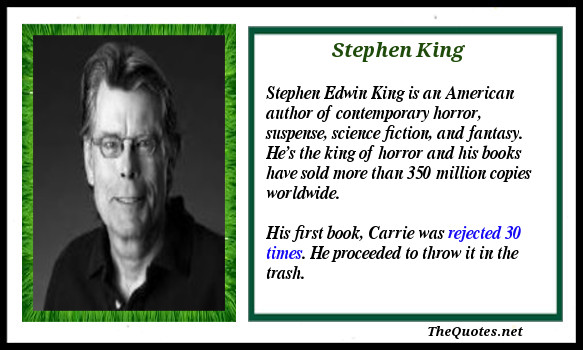 20. Steve Jobs:
"Sometimes life hits you in the head with a brick. Don't lose faith." – Steve Jobs
Steve Jobs was an American entrepreneur. He is best known as the co-founder, chairman, and chief executive officer of Apple Inc.
Jobs unveiling the iPhone 4 at the 2010 Worldwide Developers Conference.
Born: February 24, 1955, San Francisco
Died: October 5, 2011, Palo Alto
Steve Jobs is the world-renowned brains behind Apple computers but before the company became the phenomenon it is today, Steve made plenty of mistakes.
Jobs was diagnosed with a pancreatic neuroendocrine tumor in 2003. His whole life has been about creating new things.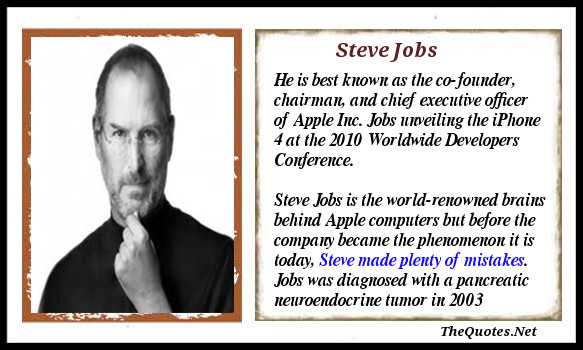 Quotes about Failure:
Think like a queen. A queen is not afraid to fail. Failure is another steppingstone to greatness. –Oprah Winfrey
Failure is the key to success; each mistake teaches us something. – Morihei Ueshiba
There is no innovation and creativity without failure. Period. – Brene Brown
Success is never final, failure is never fatal. It's courage that counts. – John Wooden
Without failure there is no achievement. – John C. Maxwell
Related:
Failures are stepping stones to Success