Women are an important element of our Society.
On March 08, 2018 Google celebrates International Women's Day with beautiful doodle.
W-Wonderful,
O-Outstanding,
M-Marvellous,
E-Elegant,
N-Nice.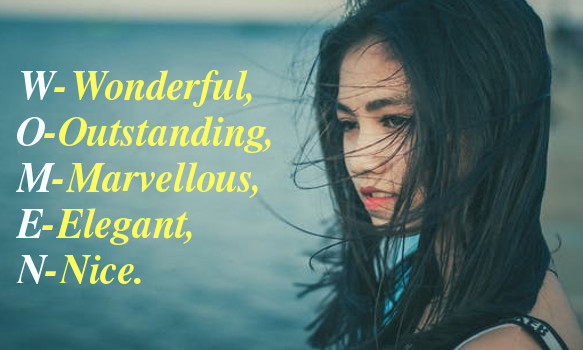 "There are two powers in the world;
one is the sword and the other is the pen.
There is a great competition and rivalry between the two.
There is a third power stronger than both, that of the women." – Muhammad Ali Jinnah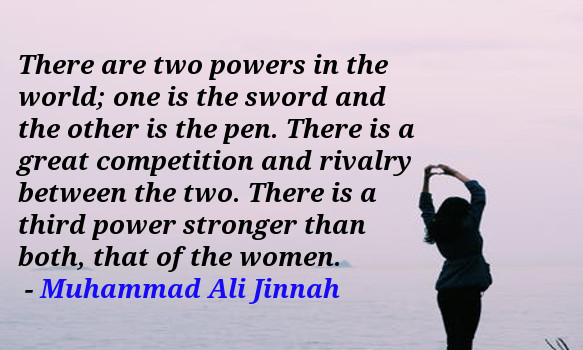 Facts about International Women's Day: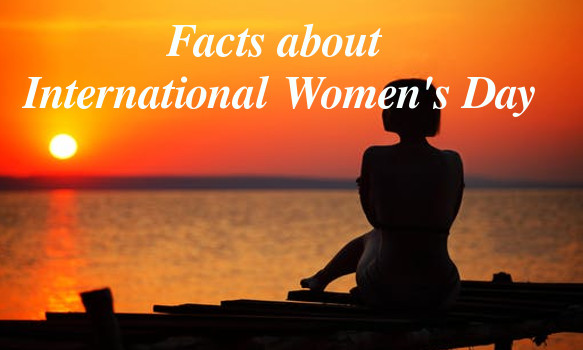 International Women's Day (IWD) is celebrated on March 8 every year. It commemorates the movement for women's rights.
While the first observance of a Women's Day was held on February 28, 1909 in New York, March 8 was suggested by the 1910 International Woman's Conference to become an "International Woman's Day."
The day was then predominantly celebrated by the socialist movement and communist countries until it was adopted in 1975 by the United Nations.
The United States now designates the whole month of March as 'Women's History Month'.
IWD is also an official holiday in 15 countries including China, Ukraine and Vietnam.
Over the past few years Google have marked the occasion with a "Google Doodle" for International Women's Day, changing their logo on the search engine's homepage to reflect the occasion. Sky News are marking today's 100th International Women's Day with an all female line-up.
The International Woman's Day theme for 2018 is: "Planet 50-50 by 2030: Step It Up for Gender Equality"
The International Women's Day logo is in purple and white and features the symbol of Venus, which is also the symbol of being female.
Interesting Messages about Women:
Message 1:
Every Home,
Every Heart,
Every Feeling,
Every Moment Of happiness is incomplete without you,
Only you can complete this world.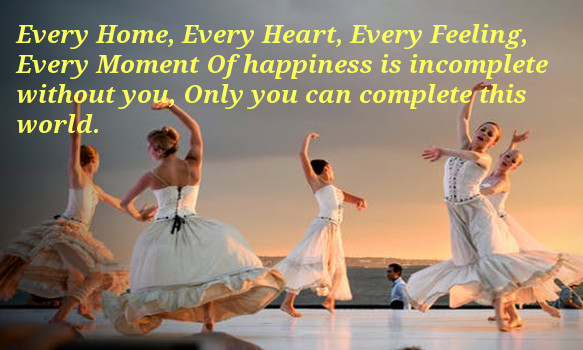 Message 2:
A sense of pride and things along
Being a woman, you are so strong
You know that you can make it happen
You know that world is bright for you
Yes! You are the one…a perfect woman.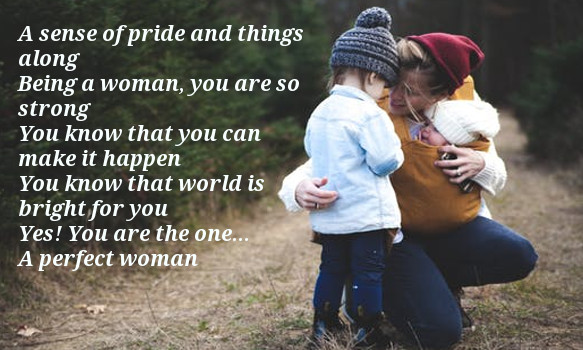 Message 3:
Without you the world is incomplete,
Without you the heart feels empty,
Let the world blossom with your smile
The way you have always done!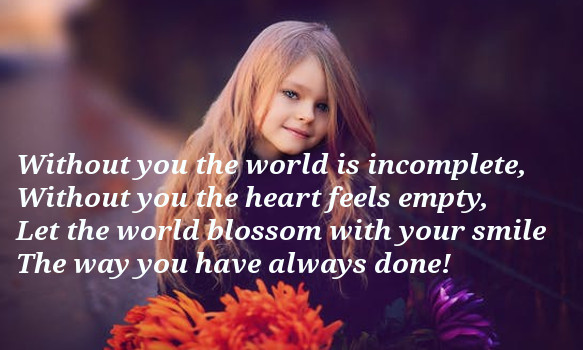 Message 4:
To the woman who never gives up
To the woman who has control
To the woman with compassion in the heart
To the woman whose a special part
Salute to you and your spirit
Salute to the way you carry life
You are a super woman.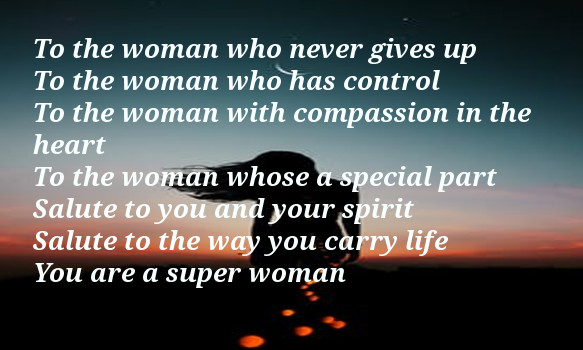 Message 5:
If Life is Rainbow,
You are different colors of it
If Life is Dark,
You are the hope of Light.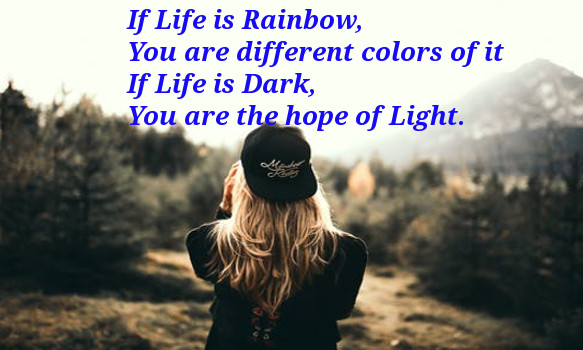 Message 6:
A woman brings us on this earth,
She nurtures us day and night
She makes us what we are today,
We must together take an oath,
To help her nurture herself!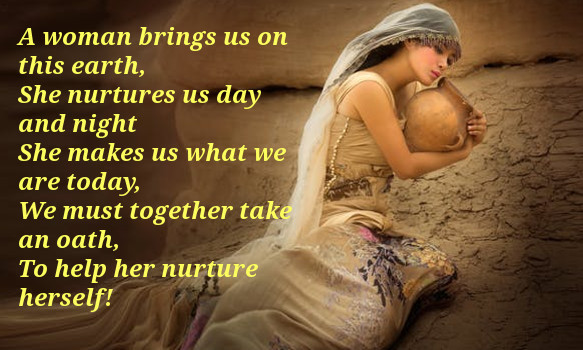 Message 7:
She is free spirited in life
She wishes to fly with wings
She wants to be happy with people
Who love her the most
She has wishes and desires
And also know the ways to fulfill them
She is a wonderful woman.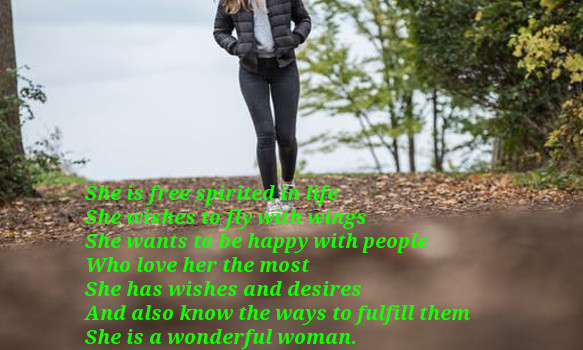 Message 8:
She is the one, who cares for all,
She is the one, who share the pain,
She makes a place worth living,
And transforms it into a home,
She is the strongest person I have ever seen.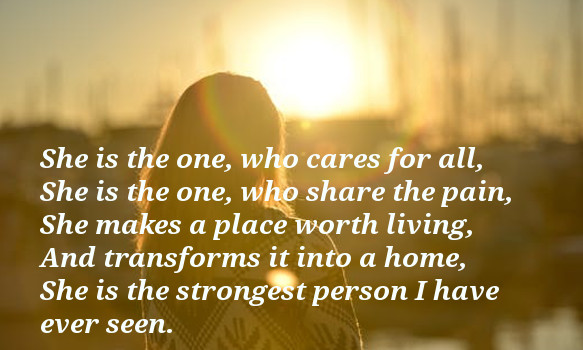 Message 9:
You want to fly, in to a free sky,
You never ask for the wings,
You just want to break up your ring,
Keep flying, the whole sky is yours.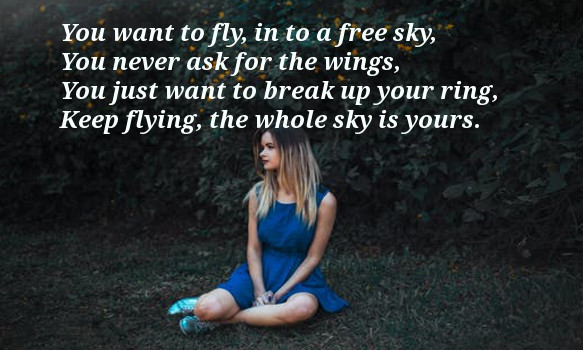 Message 10:
We are cute daughters,
We are adorable mothers,
We are sweet sisters,
We are lovely lovers,
We are darling wives,
We are source of strength,
We are WOMEN!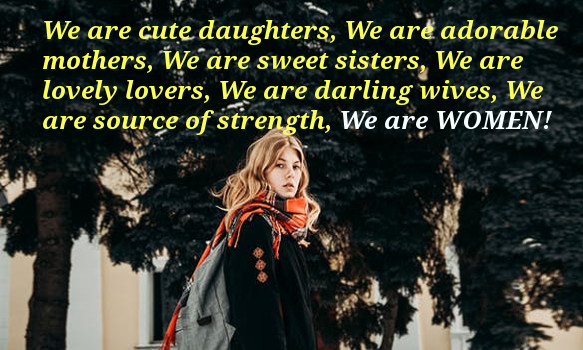 Women are the real architects of society. – Harriet Beecher Stowe
A woman is like a tea bag – you can't tell how strong she is until you put her in hot water. – Eleanor Roosevelt
A woman's guess is much more accurate than a man's certainty. – Rudyard Kipling
Women are the largest untapped reservoir of talent in the world. – Hillary Rodham Clinton
Woman is the companion of man, gifted with equal mental capacity. – Mahatma Gandhi
Women are made to be loved, not understood. – Oscar Wilde
You educate a man; you educate a man. You educate a woman; you educate a generation. – Brigham Young
A woman is the full circle. Within her is the power to create, nurture and transform. – Diane Mariechild
Any woman who understands the problems of running a home will be nearer to understanding the problems of running a country. – Margaret Thatcher
A strong woman understands that the gifts such as logic, decisiveness, and strength are just as feminine as intuition and emotional connection. She values and uses all of her gifts. – Nancy Rathburn
The best protection any woman can have … is courage. – Elizabeth Cady Stanton
International Women's Day Facebook covers




Seven complicated facts about Women- Just For Fun:
1. They believe in saving.
2. Believe in saving but buy expensive clothes.
3. Buy expensive clothes but never have anything to wear.
4. Never have anything to wear, but always dressed beautifully.
5. Always dressed beautifully, but never satisfied.
6. Never satisfied, but still expect men to compliment them.
7. Expect men to compliment, but don't believe them if complemented.