Success is the achievement of a high position in a particular field, for example in business or politics.
Success is an attitude. Success requires maximum effort. It is peace of mind and a state of mind.
"Success is the sum of small efforts, repeated day in and day out." ‒ Robert Collier
Being successful means the achievement of desired visions and planned goals.
"In my opinion, true success should be measured by how happy you are." – Billionaire Richard Branson
What is Success? What does success mean to you? Actually, it has many definitions.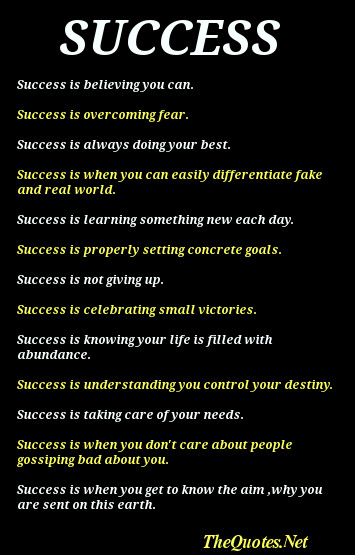 Definitions of Success:
Success is believing you can.
Success is overcoming fear.
Success is always doing your best.
Success is when you can easily differentiate fake and real world.
Success is learning something new each day.
Success is properly setting concrete goals.
Success is not giving up.
Success is celebrating small victories.
Success is knowing your life is filled with abundance.
Success is understanding you control your destiny.
Success is taking care of your needs.
Success is when you don't care about people gossiping bad about you.
Success is when you get to know the aim ,why you are sent on this earth.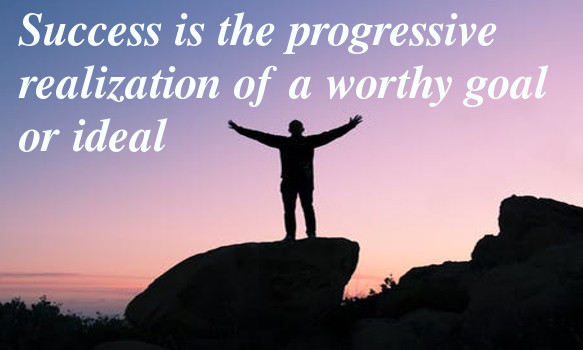 "When you don't have to think about the past,
When you don't need to think about the future,
When you enjoy being in the present moment,
That moment Life becomes Successful"
Examples of Success:
Becoming famous
Getting good grades at school
Getting the job you wanted
Seeing your business prospering
It is promotion at work
When you fix a broken instrument with your own hands
It is all these things and many more.
Quotes about Success:
Action is the foundational key to all success. – Pablo Picasso
Always bear in mind that your own resolution to succeed is more important than any one thing. ‒ Abraham Lincoln
Actually, I'm an overnight success. But it took twenty years ‒ Monty Hall
My formula for success is rise early, work late, and strike oil. – Paul Getty
Eighty percent of success is showing up – Woody Allen
Failure is inevitable. Success is elusive – Steven Spielberg
If A is success in life, then A equals x plus y plus z. Work is x; y is play; and z is keeping your mouth shut. – Albert Einstein
Success is not final; failure is not fatal: It is the courage to continue that counts. – Winston S. Churchill
Try not to become a man of success, but rather try to become a man of value ‒ Albert Einstein
The talent of success is nothing more than doing what you can do, well ‒ Henry W. Longfellow
Related
Top 8 Secrets to achieve Success Surely
Simon Sinek's Top 10 Rules For Success
Failures are stepping stones to Success